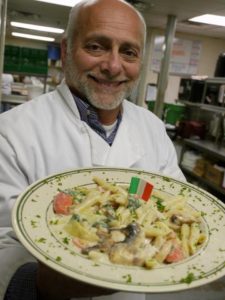 The Old Town Spaghetti Store was founded by Robert Baudo in the spring of 1982. Originally located in the historic Casey Jones Village, this tiny restaurant immediately became a popular town eatery. In May of 1989, the Spaghetti Store relocated to a bigger and better location to better accommodate its rapidly growing number of customers. The new restaurant located at 550 Carriage House Drive provided more seating and a lounge.
In the beginning, Bob's goal was to offer spaghetti, with varied sauces, lasagna, salad, and dessert. But as the business grew, the menu expanded. Today we offer a variety of steaks, chicken, seafood, and veal. We are also famous for our prime rib and tasty weekend specials. The Spaghetti Store is relaxing and informal with an authentic country Italian atmosphere.
The restaurant strives to maintain high standards at all times. Its mission is to prepare and deliver quality food with great service at a reasonable price. We recognize our customers as the most important ingredient of our business. The rapid growth and the success of the Old Town Spaghetti Store is attributed to the dedication of its employees, the ideal superior customer service, and to the quality of the products the restaurant offers.
For over twenty years now the Old Town Spaghetti Store has proudly served customers from all over West Tennessee and the United States. We even have second and third generations of loyal customer families now frequenting our establishment. We would like to thank our loyal customers for our success.